The Peer Health Educators (PHEs) are a diverse group of UVA students trained to empower their peers to practice holistic health and well-being in a positive, supportive, interactive, and nonjudgmental manner.
Comprehensive training prepares the PHEs to facilitate dynamic outreach programs; to plan and implement evidence-informed awareness events; and to promote a healthy and inclusive culture at UVA.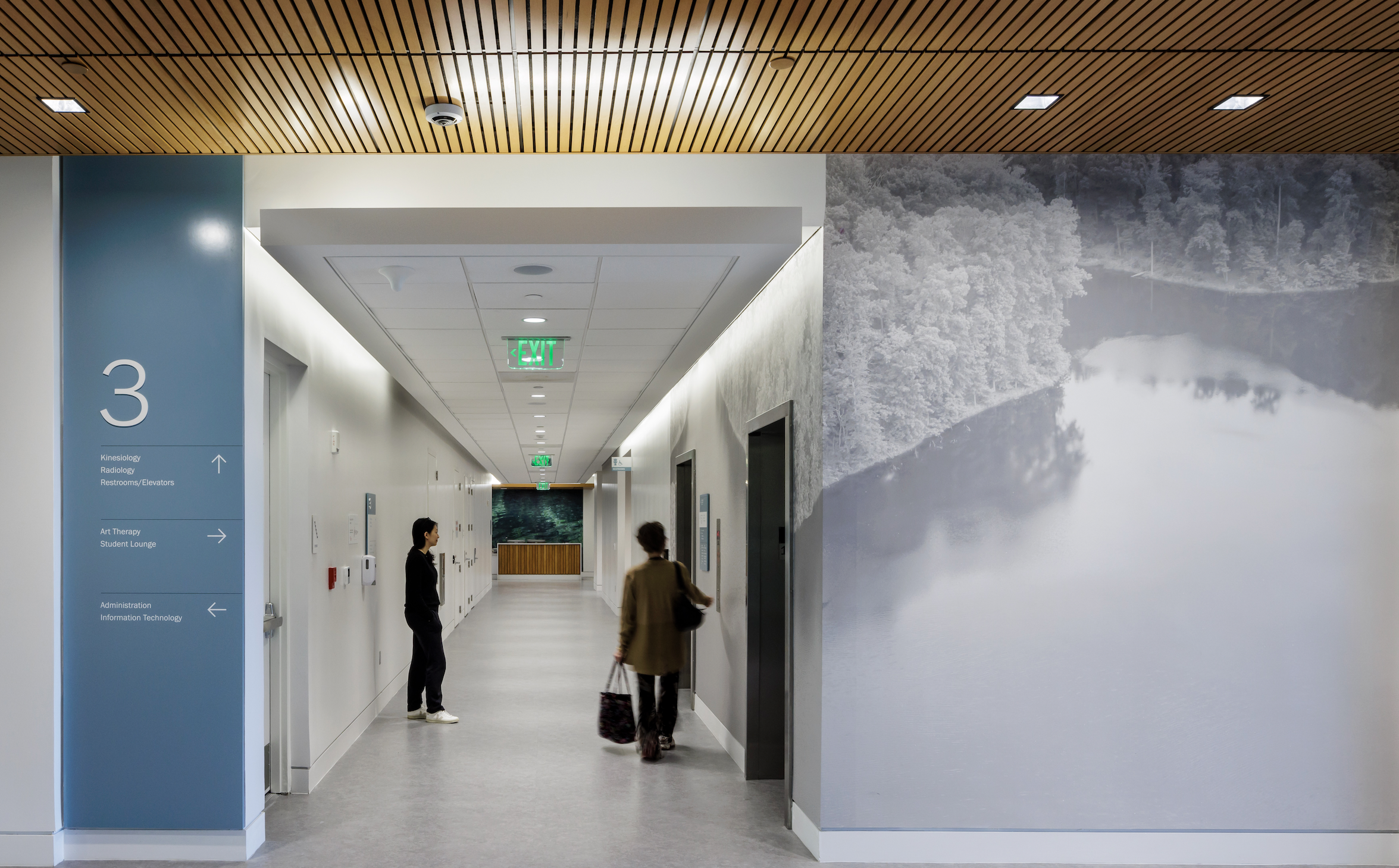 In October of 2021, the Department of Student Health and Wellness (SHW) moved into a 156,000 square foot state of the art facility. The building is home to SHW's four core units—Counseling and Psychological Services (CAPS), Medical Services, the Office of Health Promotion (OHP), and the Student Disability Access Center (SDAC). The building also houses a UVA Health satellite Pharmacy and Laboratory, the Gordie Center, UVA Kinesiology, and the Student Health Office of Research Excellence (SHORE). Spaces for students are woven throughout the building, including meeting rooms, spaces for quiet reflection, a living room, teaching kitchen, wellness suite, and a student lounge.
Natural elements have been incorporated throughout the building, as nature has been shown to positively impact both wellbeing and health. Current features include large nature graphics in waiting areas and central hallways, abundant natural light, expansive mountain views, stained wood at reception areas, slate flooring, and nature-inspired furniture.
SHW seeks student photography for multiple places in the building; specifically, color photography of nature from locations in central Virginia. Portrait, landscape, and square orientation are appropriate for the space. SHW will not crop images. Students can submit as many images as they'd like. Selected photography will be printed by SHW and hung in the space with credit to the photographer. SHW will also gift the selected photographers a $20 Bodos gift card. Please fill out the form below to submit your art.
The first floor of Student Health and Wellness now includes a beautiful Steinway Grand Piano.  The piano was a generous gift from Ms. Coke Stewart in memory of her sister, Kay Stockwell.
Students can reserve the piano on 25Live if they'd wish to play at Student Health and Wellness. Students can find the piano by searching SHW-Piano or by clicking the link below.
Student Health Insurance Committee
The Vice President and Chief Student Affairs Officer oversee the student health insurance program. The Student Health Insurance Committee (SHIC) consists of faculty, students, and staff and serves as an advisory body to the Vice President. Each year, in consultation with the SHIC, the Vice President makes a recommendation to the University's senior leadership regarding the benefit structure and cost of the student health insurance plan for the upcoming plan year. Members of SHIC meet 3-4 times per year to discuss the student health insurance plan and provides input regarding any benefit modifications for each plan year. 
Student Health Advisory Committee
The Department of Student Health and Wellness (SHW) is always looking for students to serve on their Student Health Advisory Committee (SHAC). The committee represents the entire student population and interacts with other students groups on Grounds. The SHAC meets 3 times a semester, Wednesdays at 5pm. We're looking for students that come from a variety of backgrounds to represent the diverse UVA student population. Below you can find a list of topics the SHAC often covers. If you think you would be a good addition to the SHAC, reach out to us at 
Opportunities with Medical Services
Medical Services provides training opportunities for individuals pursuing a career in health care, consisting of the following:
nursing students
nurse practitioner students
residents in the primary care fields of Internal Medicine, Family Medicine, and Pediatrics
Medical Services also offers training via a 10 month medical scribe program. This position is ideal for students pursuing health careers who are taking a gap year between undergraduate and graduate education.
Opportunities with Counseling & Psychological Services (CAPS)
CAPS provides training opportunities for mental health pre-professionals, consisting of the following:
American Psychological Association-accredited doctoral psychology interns
Advanced Doctoral Practicum in Psychology
4th Year Psychiatry Resident Elective
Undergraduate Positions
From graphic designers, to event assistants, building managers, and front desk associates, Student Health and Wellness employs many students. Check back here throughout the semester to learn more as opportunities are available at SHW. 
SHWC Event Assistant: Student Health & Wellness is a service-oriented unit responsible for housing various programs and services such as Medical Services, Pharmacy, Pharmacy Retail Space, SDAC, CAPS, OHP, Gordie Center, Laboratory, Radiology, Kinesiology, Multi-purpose rooms, Teaching Kitchen, Living Room, Student Lounge, Reflection Rooms, Art Therapy Room, Group Therapy Rooms, Wellness Suite, and Collegiate Recovery Program. The student staff ensures the proper use of Student Health & Wellness, the safety and well-being of patrons, compliance with facility use, general monitoring of the building and grounds and upholding policies and procedures. Learn more and apply