32nd Annual 4Y5K: Community of Care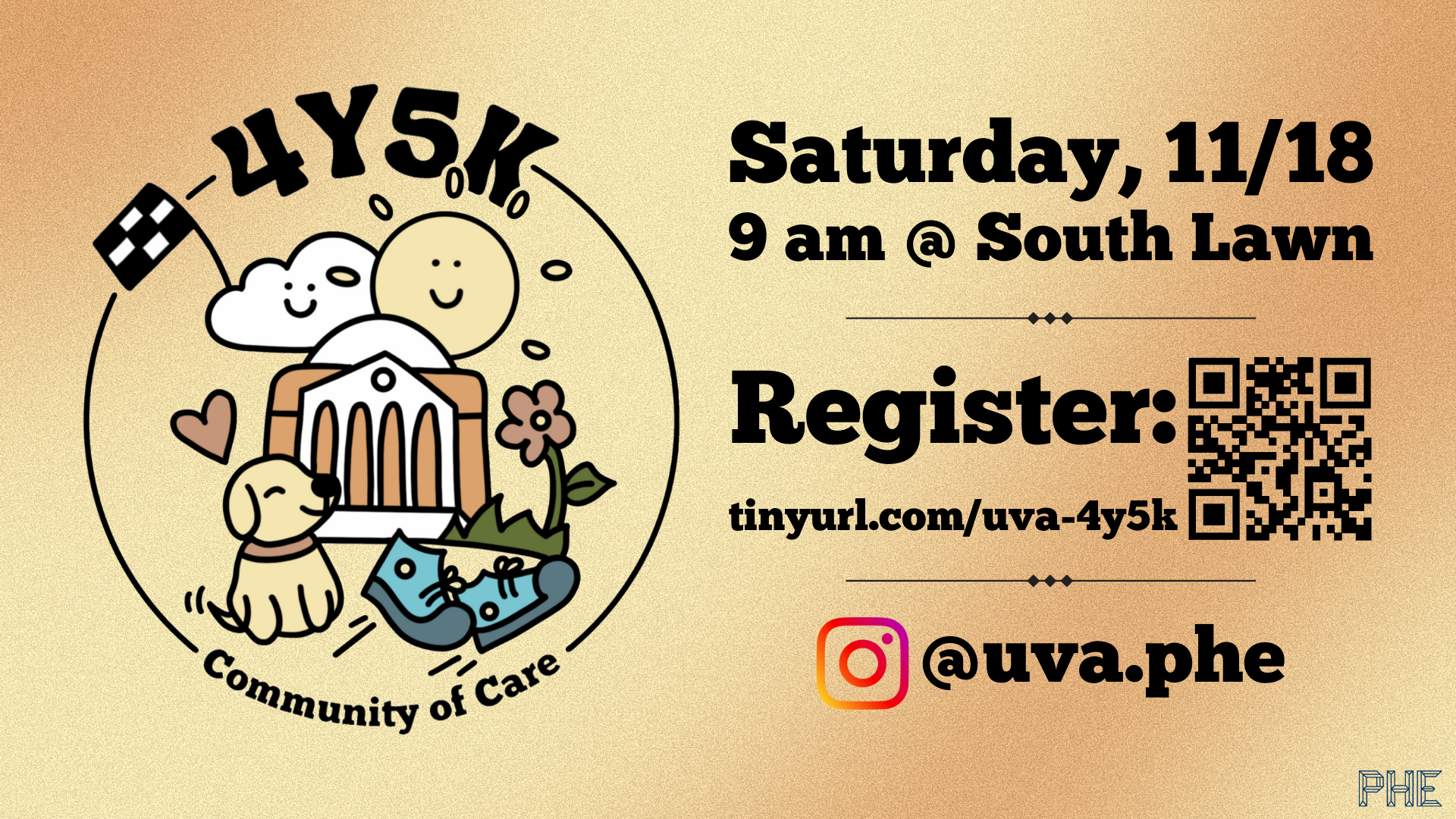 The "4Y5K: Community of Care" is a longstanding UVA tradition presented by the Peer Health Educators to promote bystander intervention strategies across Grounds and create an opportunity for the UVA and Charlottesville communities to come together and celebrate a positive tradition together. The cost of the race is $18 and includes a long sleeve dri-fit race t-shirt, a race bib, and snacks and beverages on race day!
History of the 4Y5K
The 4Y5K is a beloved UVA tradition that has historically occurred on the morning of the last home football game. The race is held in memory of Leslie Baltz, a UVA student who passed away due to high-risk drinking. The race aims to create a positive tradition where students can safely come together and make lasting memories. We are excited to honor Leslie Baltz, and a portion of the proceeds will be donated to the UVA Leslie Baltz Art Study Fund. This year we are also excited to announce that we will be donating some of our proceeds to UVA's Collegiate Recovery Program.
How can I get my packet?
Packet Pickup will begin Monday, November 6th! Packets will be located at the UVA Student Health and Wellness building on Brandon Ave. Times for pickup are below:
Mon (11/6) - Fri (11/10): 9am - 5pm
Mon (11/13) - Fri (11/17): 9am - 5pm
All you need to show us is your confirmation email of registration! Remember, the earlier you pick up your race packet the better! We look forward to seeing you pick up your packets!
Event Parking
There will be free parking at Central Grounds Garage during the run/walk for those that need it.  The address to the garage is: 400 Emmet St S, Charlottesville, VA 22903.
Route